Adoption changes lives. It can change them in eternally resonating ways. I didn't always understand the power that adoption entails. After spending much time with all members of the adoption triad, birth parent, adoptive couple, and adoptee, I think I finally get it. Adoption is powerful and beautiful.
November is national adoption month. I reminisce on my own childlessness this month and think about how adoption has changed my life. I have not adopted a child. (although I would, if the right situation came along) Adoption has not worked out for me, but I will advocate it until I am blue in the face. Why? Because I have seen it fill the arms of a yearning couple. I have seen a birth mother repent and be married in the temple. I have seen children go to safe homes when they wouldn't have otherwise. I have seen the joy, the selflessness, the love.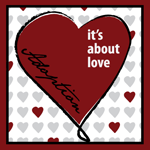 Check out
itsaboutlove.org
. This is the church's adoption website. The thing I love most about this website is that you can get your questions answered from people who have been there, done that. LDS Family Services has a great staff and an amazing network of people who can inform, teach, and support. Families Supporting Adoption holds a national conference in Utah every July. This LDS based conference has proven to be a great resource for education and finding new friends. I recommend it to everyone, not just members of the adoption triad!
Take a moment this month to think about adoption. Study the blessings it brings to families and the viewpoints of our leaders. Come to understand its beauty. Step outside of the normal realm of becoming a parent and look at this beautiful way. Last but not least, please say a prayer that these individuals find each other, birth mother, adoptive couple, and adoptee. Pray that they can be blessed by the power of adoption.
Kelly is an infertility warrior and adoption advocate. She has been married to her husband, Will, for six years and just moved to South Carolina for her husband's job (where one of the leading infertility clinics in the country is located BTW :o) She blogs daily on her online journal, Giving What I Am, where she talks about life, infertility, adoption, and service. Most of all she loves you, yes, you!